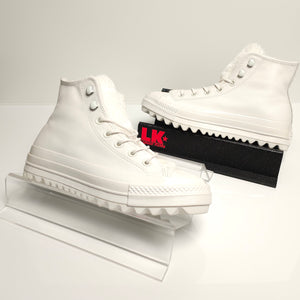 YOUR FAVORITE SHOE EASEL IS NOW CLEAR! WE FOUND A VERY HIGH-PERFORMANCE CLEAR ACRYLIC THAT IS CAPABLE OF HANDLING HEAT AND SOLVENTS WITHOUT HAZING OR MELTING!!
There is more to it than meets the eye! The simple-looking design is actually an extremely complicated set of angles that took a lot of trial and error to perfect! The angles provide comfort to the artist and allow the shoe to be worked on in two ways! Switch from a semi-upright position to a laid-back position by simply turning it around!
Semi-upright position: This allows you to comfortably work on the whole shoe and is angled perfectly for applying most art!
Laid-back position: Gives the artist the ultimate sturdy base that holds the shoe at an angle that allows you to lean on it when you're getting deep into detail work and drawing!
This easel is incredibly sturdy, stable, and won't slide around! The feet are lined with a rubber that will grab almost any surface and hold tight!
Made from a unique high-strength acrylic blend that can be easily cleaned and is heat resistant. It has a non-slip surface and is incredibly stable. This easel will make you smile for a long time!
Works great for all shoe sizes and even cleats!